The Lewd Quest of Breeding Soldier Sera (Game)
15 Nov 2012 1 Comment
by bedta in Boku wa Tomodachi ga Sukunai, Hentai Game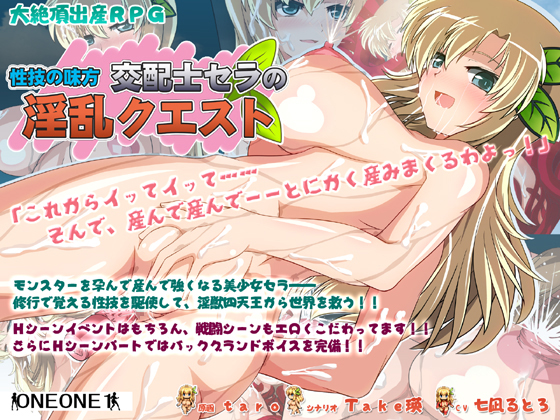 Author/Circle: ONEONE1
Language: Japanese
Format: EXE
Size: 559,0MB

Plot:
My name is Sera Jogasaki.
One minute I was a girl playing eroge and volleyball in the real world.
The next I was sucked into an RPG realm, where a witch groped me
and said "you've got childbearing hips"… what!?
I won't lie, I like having sex. I got around. But was that why I was
brought to this world? The witch took me to the prince, and all was
answered…
"Sera, you are anointed Breeding Soldier. Go forth and f*ck
the monsters that plague our land from existence!"
>Monsters in this world disappear when they ejaculate. O…okay.
But what about pregnancy? In fact… the truth is I wanted to be
impregnated by a monster. How hot is that!?
* Massive climax birth RPG
Experience increases from multiple orgasms!! Level up by giving birth!!
Cum until you can cum no more in this monster birth-themed RPG.
When you level up you unlock a new level up birth scene with voice!!
Sprawl forth in the throes of climax, as Sera becomes stronger.
* WTF the most powerful armor is tentacles!?
Acquire the glorious Tentacle equipment in the second half of the game!!
This incredible suit gives Sera the ability to climax just by walking around!!
Multiple orgasms and EXP skyrocket up and up into heaven!
Of course all of this is represented in pose art AND retro graphics!
* Copulate with monsters!! That is the Breeding Soldier's raison d'etre
Battles are sexual, and in the story you will learn the Way of Breeding,
a martial arts skill that gives turns f*cking into victory. When you use the skill
sex cutscenes are shown, and actual battles are full of erotica.
* Many, many ecchi events!!
ONEONE1 puts its full focus on H scene events!!
Birth scenes are sexy of course, but also training scenes!!
Enjoy bounty hunter strip show, etc., and both background
voices and wonderful Sera (CV: Rutolo Nanagi)!!
* CG / scene replay mode
The full game lets you review all CGS and erotic scenes
as you clear them… including sex battle cutscenes!
Exhibition, gangbang, rape, interspecies sex, masturbation, DP, nipple fuck,
nude battle, double peace, stretching, summoning birth
Screenshots:

Rapidgator: part1|part2
Uploaded: part1|part2
Tags: Beastiality, Big Breasts, Birth, Bukkake, Exhibitionism, Masturbation, monster, Nipple fuck, Rape, tentacles